Product Details
We love the Kranzle motto 'Better Perfect than Cheap'. There are so many pressure washer machines on the market for all kinds of budgets, but in the long run, the cheaper machines always end up costing you more. We have meticulously chosen only 2 Kranzle machines to build upon our Pressure Washing Package ethos, and this K10 has been featured due to its compact shape and amazing flow rate capabilities.
Kranzle are world-renowned for building powerful, reliable, beautifully designed machines. But that doesn't make their machines suitable just for the industrial or commercial sector. These machines are the perfect choice for the domestic user who also appreciates superior build quality that has been made to last you many years to come.
After a lot of hard work and time, we are very proud to share with you this amazing Kranzle K10 Advanced Package, which is not offered anywhere else within the UK. We have gone to the extreme lengths to ensure every part and fitting on this pressure washer is to the highest of standards.
Whilst the Kranzle K10 is an amazing machine which comes as standard with a Kranzle's own quick release lance and trigger, we have upgraded this package even further for you by including the MTM Hydro SGS28, which we have upgraded to the Ultimate package, consisting of the Mosmatic ⅜" male plug and the Mosmatic T304 male stainless steel coupler. Also included is our Mosmatic V3 Lance complete with a 15° bend which is outfitted with T304 stainless steel fittings, plus our 40° Mosmatic Nozzle Assembly. The final big upgrade within the advanced package is that we have removed the OEM Kranzle hose and outfitted the K10 with the world famous KobraJet Hose imported from the USA. This hose has gained worldwide status as being the very best hose money can buy. These accessories are guaranteed to give you the ultimate car care pressure washing experience!
All the hard work has been done for you, and all parts will be connected and tightened using PTFE tape, so you can take it straight out of the box and put it to immediate use.
The Ultimate Pressure Washing Package Contents:
Kranzle K10 with KobraJet Hose, dirt killer lance and variable lance.
MTM Hydro M22 / 3/8 coupler.
MTM Hydro YumCars collaboration Ultimate SGS28 short trigger gun, complete with Mosmatic fittings, pre-assembled.
Mosmatic Lance V3 – Stainless steel construction, 15° degree bent lance with T304 quick release coupler.
Mosmatic 1 piece integrated Nozzle Assembly.
… and of course, a little dose of blood, sweat and tears from all the research and assembly for you all to enjoy!
Additional Information
Please note that the original lances supplied by Kranzle will not attach to our accessories provided, however, they can be used in conjunction with the standard stock machine. If you wish to use both as a quick release system, please purchase our M22 Female (14mm) – ⅜" QC Plug separately.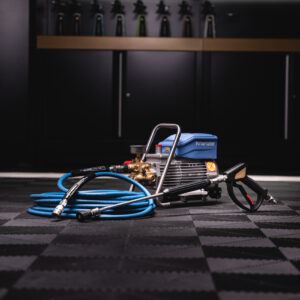 Kranzle K10 Pressure Washer Package - Advanced
£1,100.00 – £1,150.00
Buy now and pay later in 3 payments. No fees. More info…